How Digital Tech Is Helping Small Farms
Shared information has always been at the forefront of agriculture. No matter if your farm is an individual field or corporate operation, you likely live and die by collected information. The information that has been gathered and proven over time helps farmers decide and plan for success. 
A great example of how long this has been important is publishing the first Farmer's Almanac in 1792. Originally written by Robert B. Thomas, this publication uses a meteorological technique from Galileo. The purpose was to help farmers know when and how to plant crops for the best yield. 
This sharing of information was so important even then that Benjamin Franklin himself published The Farmer's Almanac. 
DTN also firmly believes in helping those who feed our world by providing them with the best information and technology possible. Their newest offering ClearAg is a perfect example of technology and information coming together to help farmers. Be sure to visit DTN today to test drive ClearAg and see what DTN can do for you.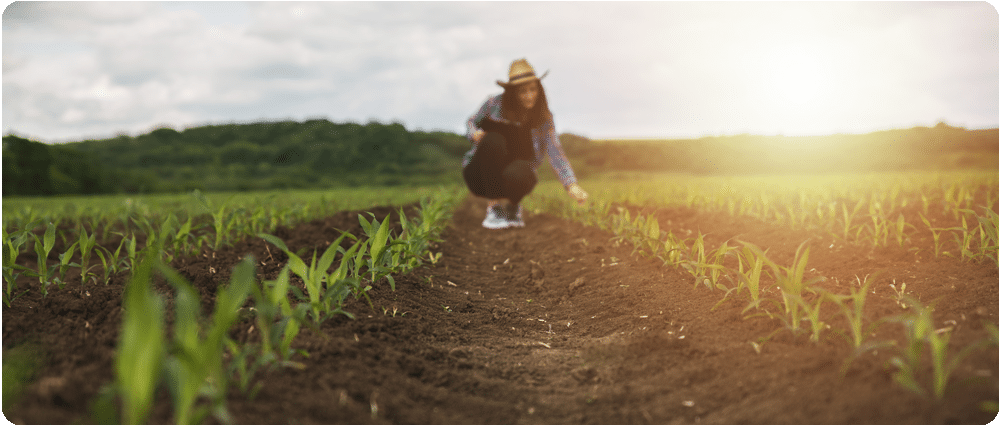 How digital technology got into farming 
Digital technology has trickled into the agricultural industry over time, starting with GPS trackers on tractors. Before GPS on tractors was a thing, farmers brought the technology onto the field in other ways. 
The goal, however, of all these methods of information compilation and sharing is to increase yield and profit. It's worth noting that each of these methods uses the technology of the day to spread information. 
Agriculture has always been a generous industry of sharing and helping one another. This tradition is kept alive today with vast sharing of information to feed people and make a profit. 
When World War II ended in the 1950s, the radio show The Archer's was created and broadcast. The information shared on the show helped farmers to increase food production. This was monumental due to food rationing and shortage during the war. 
In India, there are 800,000 farmers who subscribe to Precision Agriculture for Development. This service uses voicemails and text messaging to send farmers crop-specific information. This program is instrumental for farmers who do not have internet access and can benefit from the data. 
With the development of technology and data sharing, technology use has manifested in many different forms. The popularity of cell phones and other smart devices has only made this growth exponential. 
ClearAg is the latest way to receive information to take your small farm to the next level. Over 20 years of data have been curated to give the most accurate service available. It is arguably the most user-friendly and most helpful tool for the agricultural industry. 
How digital tech helps small and family farms 
Weather 
Digital technology makes it possible to access a team of meteorologists to advise them on location-specific weather conditions. No matter where a farmer is located in the world, they have weather information specific to them. 
When rain or severe weather happens, the topsoil in a field can get churned and redistributed. It may seem pretty mundane and nonconsequential, but it can mean that watering and spraying may need to change. 
If watering and spraying patterns are not changed, it can lead to over-watering and killing crops. 
Being prepared for upcoming weather is also vital. Unplanned frost, flooding, or a future weather emergency can be detrimental to crops. One can only imagine how devastating it must be to plan for months to have it ruined by unforeseen weather conditions. 
Having a better understanding of the weather in your specific location also helps prevent over-spray and watering in your respective field.  
Livestock
Livestock is one of the most expensive investments in the agricultural industry. Digital farming allows for farmers to track their livestock's location and keep them on a feeding schedule. 
Tracking animals can be vital for monitoring ones that are pregnant, sick, or may be lost. It is especially true if you have a larger property. 
In the field
Even if a farm is smaller, there are a plethora of operations to keep straight every day. Taking advantage of technological advancements can be invaluable in the efficiency of everyday operations.  
Rentals:

Digitalizing your operations gives your farm the chance to access renting equipment that you may need. If your operation is one that has a single field, the equipment necessary to flip to a different crop may not be readily on hand. 

Warehouse/storage admin:

Having instant access to your inventory or space in silos can be invaluable when making snap decisions. 

Market and financial information:

A digital information center gives clients up to the minute market pricing and trade information. The available data can advise on the pricing and timing of trades for the best possible price. 
Individual fields getting individualized help
Farms of any size, no matter where they are located, can benefit from integrating technology. Modern farmers must know how to raise cattle, work the soil, and be able to navigate economic markets. 
DTN has created a system to support those in the agricultural industry using today's latest technology. Farmers are granted access to world-class support and experts to bring their farms to the next level. 
Once a part of the DTN network, clients will access industry experts, summits, and webinars. When farmers are ready to sell their goods, they can utilize the advertising opportunities available. 
Visit DTN today for a free demo of ClearAg and our other wonderful products to take your farm to the next level.