Reduce Environmental Impact of Shipping with Smarter Approach to Weather Routing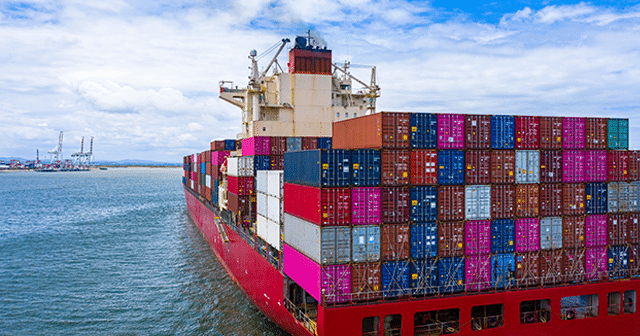 The shipping industry has stringent environmental targets on the horizon. By 2050, the industry must reduce greenhouse gas emissions by 50% compared to 2008 levels. To meet these targets, shipping companies need new, innovative approaches to run their fleets and reduce emissions.
Fuel consumption is the biggest driver behind current emission levels emissions. The industry uses 5 million barrels of fuel a day. Most ships use a combination of marine gas oil, low sulfur fuel oil, or very low sulfur fuel oil — though vessels fitted with scrubbers may still use high sulfur fuel oil.
Alternatives to bunker fuels exist, but the transition comes at a cost. An estimated $1 trillion investment is needed to decarbonize shipping. In the meantime, other options exist for shipping companies to reduce emissions, without high upfront costs.
Reducing environmental impact through optimized weather routing
Reducing overall fuel consumption is good for the environment. Less fuel burnt means lower emissions. But how can ships reduce fuel consumption without affecting other KPIs? The answer is optimized weather routing, which enables companies to develop the best route for a vessel based on weather forecasts, ship characteristics, and cargo requirements.
Ships that use optimized fuel consumption to reduced fuel consumption also save money on fuel costs. This approach lowers fuel costs between 2- 5%, depending on the type of vessel, the season, and the conditions. This reduction translates to saving $350 -$4500 per day per vessel.
Here are the key characteristics to look for in a smart approach to weather routing:
Routing Advice Underpinned with Accurate Weather Data
There are many freely available weather data sources. But in terms of accuracy, there are clear differences between free weather apps and high-quality weather forecasting. This improvement is due to an ensemble approach of data sources, weather models, forecasting systems, specialists, and technologies, which weather experts rely on to improve the accuracy of their forecasting.
Guidance Incorporating the Individual Ship Characteristics
Vessel sizes, types of cargo, and speed capabilities affect how ships respond to weather conditions. Knowing a ship's traits means its vulnerability to adverse conditions, and its ability to avoid them can be taken into account when planning a route.
Ship performance curves (speed curves) estimate the speed of advance (SOA) while transiting the forecast sea states. The curves or show the effect of head, beam, and following seas of various significant wave heights on the ship's speed.
Every ship has a unique performance curve. The DTN Ship Profile Library, developed with MARIN, contains advanced algorithms for the resistance impact of wind and waves on specific vessel types.
A Weather Optimized Route Network
The weather-optimized route network reduces time on voyage planning and improves route quality. It plans port-to-port routes, including navigational constraints and port approaches.
The value of the network comes through opening the larger navigable waters for routing. Effectively, it allows the routing algorithm to route a ship around significant weather events safely — like Google Maps provides alternative routes when the traffic is heavy.
Advanced Routing Algorithm
An advanced routing algorithm optimizes shipping routes by taking into consideration various sea conditions, such as wind, waves and swell, currents, and other weather elements. Combined with the variable speed algorithm, it allows captains to avoid adverse weather. As a result, they can reduce downtime, prevent damage to the ship and cargo, and improve crew safety.
Advice Supported by Master Mariner Expertise
Master mariners have extensive navigational knowledge, including obstacles, sea currents, and waters affected by pirates. They are familiar with the vessel characteristics in different wind and sea conditions. They also understand processes onboard the bridge. They know when it's practical to issue new routes or speed, ensuring all advice is workable. Their knowledge and skills put the data in context. 
To find out more, watch the webinar: Reduce Your Carbon Footprint, While Saving Costs, and Increasing Profitability. It explores the benefits of weather routing—and includes case studies showing the benefits in practice.