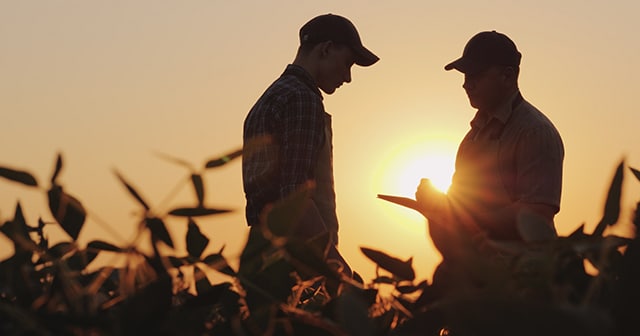 Welcome to the Insect Insider: your space for problems, pests, and the rest. I'm Dr. Scott B. Williams and over the next few weeks my intern, Levi Collis, and I will be sharing with you various topics on pest management, field work, and our general experiences.
Since this is the first post, I think some introductions are in order. I'm originally from the suburbs of Chicago, but have bounced around most of the eastern Midwest for the past 15 years. I currently operate out of the DTN West Lafayette, Indiana, office, where I'm the resident entomologist.
As the in-house entomologist, I field questions from customers on various pest-related issues, write a monthly column called Pest Watch for Progressive Farmer, and get out into the field to study how DTN solutions can best serve our customers.
We'll be focused on two main projects this summer. The first is a project that is entering its third year and deals with a moth called Western bean cutworm. This moth is an amazing insect to study, but a headache for growers. Much of the time that we've known about it, WBC has been a minor pest, isolated to areas on the western plains. But something dramatically changed about twenty years ago. We're not 100% sure what caused the change; it may be the result of a number of factors that each contributed to what happened. But WBC started moving eastward, first into Iowa and then across the corn growing regions of the Midwest, and ultimately getting as far as New York. As it spread, growers found that this cutworm can be particularly devastating to corn. Worse yet, it became clear that it was resistant to popular traits meant to control other moths: corn earworm and European corn borer.
With fewer options available to contain this pest, early detection and monitoring are important. Getting out into the field early can mean the difference between an effective control treatment and an ineffective one. For my part, I've been studying how Smart Trap™ solutions can be integrated with pest management programs to get the best results for your operation.
The second project is a new one for this year. We'll be deploying Smart Traps to monitor Corn rootworm. This beetle is a challenge to monitor, but a significant number of DTN partners and clients have frequently asked about whether the Smart Traps can be used against it. The task this summer is to set up traps and determine if 1) the Smart Traps can reliably capture Corn rootworm beetles, 2) do they perform better, worse, or equally-well to conventional traps, and 3) how to best deploy them to get informative results.
Our goal is to develop best practices for pest management using Smart Traps so growers can be certain that what the traps detect are accurate reflections of the populations in the field. As a bonus, we'll also try to detect movement of these beetles from corn into adjacent soybean fields and vice versa. We'll report on our observations as the season moves forward.
From this point forward, I hope to be your best pest advisor, providing information on pest topics in convenient, bite-size chunks. The topics will mostly focus on general management tips as well as updates on the progress of our field research. If you have questions, feel free to send them our way and we'd be more than happy to answer them.
That's all for now. Keep watching this space and we're looking forward to spending the summer with you all.