When Rain Gauges Overtop: A Collection of Reports Exceeding the CoCoRaHS 11" Gauge Capacity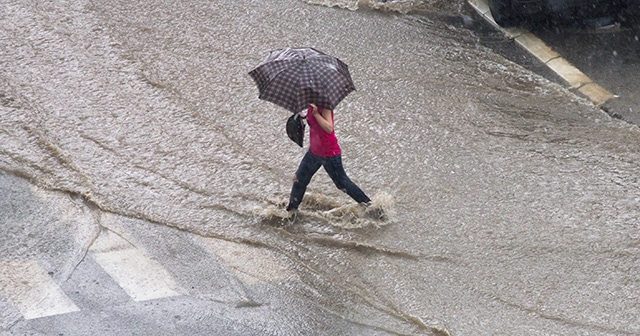 At MetStat, now DTN,  we employ a wide variety of precipitation data, from 5-minute automated gauge data to storm reports from the public at large. For the past twenty years, however, one of our most valuable daily datasets has been the CoCoRaHS gauge network. The Community Collaborative Rain, Hail, and Snow network began in northern Colorado in 1998, as a response to the devastating Fort Collins flood of July 1997. The Assistant State Climatologist for Colorado at the time, Nolan Doesken, requested rainfall reports from citizens in the affected areas, leading to a much higher density of rainfall reports in the vicinity of the storm than is typically available. This enabled a much more accurate storm analysis, and the idea of a statewide network of volunteer observers was born. By 2010, the network had expanded to all 50 states, Puerto Rico, and Canada.
Part of the reason for the success of the CoCoRaHS concept is its simplicity. Any interested citizen equipped with the official CoCoRaHS rain gauge can sign up to submit once-daily observations via their website. The recommended CoCoRaHS rain gauge is inexpensive, durable, and simple to use (Figure 1), all of which help lower the barrier to entry for would-be citizen scientists. In addition, DTN is also sponsoring an ongoing student engineering project at Colorado State University to add an automated reporting component to the gauge. A network of automated CoCoRaHS gauges would enable us to supplement the thousands of manual daily reports from citizen observers with another valuable near-real-time data source to conceivably produce a consolidated real-time gauge data set of nearly 40,000 reports each hour.
In tandem with the proliferation of daily CoCoRaHS observers has been a rise in observations of extreme precipitation. The standard CoCoRaHS gauge has an 11.3" capacity, which is of course sufficient for the overwhelming majority of all daily record precipitation observations. However, with thousands of daily observations, particularly in extreme precipitation-prone regions like the southeastern United States, it is inevitable that some observations exceed this threshold within a 1-day period. Not only are these reports remarkable from a meteorological perspective, but they represent incredibly dedicated weather observers that braved the elements to empty their rain gauges amidst the storm.
The record 1-day (24-hour) precipitation measurements for each state are provided here, but the greatest 24-hour precipitation measured in the United States is 42.00 inches reported by an observer 8.5 miles west of Alvin, Texas between 7 AM July 25th and 7 AM July 26th, 1979. The rainfall was associated with Tropical Storm Claudette. The observed emptied the rain gauge several times during this event. In fact, the observer reported that the 10-inch rain gauge was overflowing at 1 AM before emptying it, therefore causing the final measurement to be under-reported by at least 3 inches. The world record 1-day rainfall is an astonishing 71.9 inches at Foc-Foc, Réunion Island on January 7, 1966 according the the World Meteorological Organization's World Weather & Climate Extremes Archive.
Numerous dedicated CoCoRaHS observes emptied their rain gauges 1-2 times during Hurricane Harvey.  In fact, according to the National Weather Service in Lake Charles, Louisiana, a rain gauge near Nederland, Texas collected 64.58 inches of rain between Aug. 24 and Sep. 1. Although preliminary, if this is confirmed it would represent the largest total storm rainfall from any tropical cyclone to hit the United States in recorded history.
The table below represents all CoCoRaHS daily reports that have met or exceeded that 11" gauge capacity, with comments that describe the nature of each event, between 1998 and October 2017. The table includes over 500 reports, so be sure to use the table's search features to look for event names (e.g., "Hurricane Harvey") or dates in decimal YYYY.MM.DD format (e.g., "2017.08.30"), or just try flipping through the pages.
| Report Date | Report Time (local) | Station ID | Station Name | Amount (in) | State | County | Event |
| --- | --- | --- | --- | --- | --- | --- | --- |
| 2016.10.09 | 7:00 AM | NC-DP-3 | Mount Olive 2.4 SW | 11.92 | NC | Duplin | Hurricane Matthew |
| 2016.10.09 | 7:00 AM | NC-CW-22 | Edenton 2.0 W | 11.75 | NC | Chowan | Hurricane Matthew |
| 2016.10.08 | 3:00 PM | SC-CR-32 | Meggett 1.8 W | 11.73 | SC | Charleston | Hurricane Matthew |
| 2016.10.09 | 7:00 AM | VA-VBC-21 | Virginia Beach 3.1 ENE | 11.70 | VA | Virginia Beach (city) | Hurricane Matthew |
| 2016.10.08 | 6:15 PM | SC-CL-14 | Green Pond 1.3 S | 11.66 | SC | Colleton | Hurricane Matthew |
| 2016.10.09 | 8:00 AM | NC-SM-2 | Dunn 7.1 SSE | 11.60 | NC | Sampson | Hurricane Matthew |
| 2016.10.09 | 2:00 PM | NC-DR-10 | Kill Devil Hills 0.9 WNW | 11.50 | NC | Dare | Hurricane Matthew |
| 2016.10.09 | 8:00 AM | NC-GT-4 | Gatesville 3.3 NE | 11.35 | NC | Gates | Hurricane Matthew |
| 2016.10.08 | 7:00 AM | SC-CL-16 | Cottageville 5.8 WSW | 11.34 | SC | Colleton | Hurricane Matthew |
| 2016.10.09 | 7:00 AM | NC-CW-15 | Edenton 0.9 N | 11.28 | NC | Chowan | Hurricane Matthew |
| 2016.10.09 | 10:00 AM | VA-VBC-2 | Virginia Beach 11.2 NNW | 11.24 | VA | Virginia Beach (city) | Hurricane Matthew |
| 2016.10.09 | 8:30 AM | NC-CM-6 | Hope Mills 8.3 SE | 11.16 | NC | Cumberland | Hurricane Matthew |
| 2016.10.09 | 7:00 AM | NC-CM-5 | Fayetteville 4.4 SW | 11.15 | NC | Cumberland | Hurricane Matthew |
| 2016.10.09 | 7:00 AM | NC-CW-20 | Edenton 4.3 SE | 11.10 | NC | Chowan | Hurricane Matthew |
| 2016.10.09 | 7:00 AM | NC-CM-62 | Fayetteville 5.4 WNW | 11.10 | NC | Cumberland | Hurricane Matthew |
| 2016.10.09 | 7:00 AM | VA-PRC-2 | Portsmouth 4.1 SSE | 11.09 | VA | Portsmouth (city) | Hurricane Matthew |
| 2016.10.09 | 6:00 AM | VA-CSC-3 | Chesapeake 8.6 NE | 11.03 | VA | Chesapeake (city) | Hurricane Matthew |
| 2016.10.09 | 7:00 AM | GA-CT-6 | Savannah 3.1 SSE | 11.00 | GA | Chatham | Hurricane Matthew |
| 2016.10.09 | 8:00 AM | NC-WY-10 | Goldsboro 11.5 WSW | 11.00 | NC | Wayne | Hurricane Matthew |
| 2016.10.08 | 7:00 AM | GA-CT-3 | Savannah 3.9 SSW | 11.00 | GA | Chatham | Hurricane Matthew |
| 2016.10.08 | 7:00 AM | SC-BF-4 | Bluffton 2.3 NNE | 11.00 | SC | Beaufort | Hurricane Matthew |
| 2016.10.08 | 7:00 AM | SC-BF-53 | Parris Island 1.7 N | 11.00 | SC | Beaufort | Hurricane Matthew |
| 2016.10.08 | 7:30 AM | GA-BR-2 | Richmond Hill 0.5 NE | 11.00 | GA | Bryan | Hurricane Matthew |
| 2016.10.08 | 8:00 AM | GA-EF-1 | Rincon 1.5 SSE | 11.00 | GA | Effingham | Hurricane Matthew |
| 2016.10.08 | 8:00 AM | SC-BF-35 | Beaufort 3.6 NNE | 11.00 | SC | Beaufort | Hurricane Matthew |
| 2016.10.08 | 8:00 AM | SC-CD-2 | Manning 8.2 S | 11.00 | SC | Clarendon | Hurricane Matthew |
| 2016.10.08 | 11:00 AM | SC-CR-78 | North Charleston 3.1 ESE | 11.00 | SC | Charleston | Hurricane Matthew |
| 2016.09.03 | 8:00 AM | SC-GT-4 | Georgetown 6.0 S | 11.87 | SC | Georgetown | Tropical Storm Hermine (2016) |
| 2016.09.01 | 4:31 AM | FL-PN-64 | Seminole 3.2 WNW | 12.83 | FL | Pinellas | Local thunderstorm |
| 2016.08.21 | 7:00 AM | TX-GZ-21 | Gonzales 4.4 NNW | 11.11 | TX | Gonzales | Local thunderstorm |
| 2016.08.12 | 7:00 AM | LA-EB-9 | Brownfields 5.8 NE | 18.46 | LA | East Baton Rouge Parish | "No-name" tropical depression |
| 2016.08.13 | 7:00 AM | LA-EB-56 | Jackson 10.1 SSW | 17.65 | LA | East Baton Rouge Parish | "No-name" tropical depression |
| 2016.08.13 | 7:00 AM | LA-EB-23 | Brownfields 4.0 E | 16.05 | LA | East Baton Rouge Parish | "No-name" tropical depression |
| 2016.08.13 | 7:30 AM | LA-EB-19 | Monticello 3.0 ENE | 15.48 | LA | East Baton Rouge Parish | "No-name" tropical depression |
| 2016.08.12 | 7:20 PM | LA-WF-4 | Wakefield 0.9 WNW | 14.65 | LA | West Feliciana Parish | "No-name" tropical depression |
| 2016.08.13 | 7:00 AM | LA-LV-4 | Denham Springs 4.1 NE | 14.19 | LA | Livingston Parish | "No-name" tropical depression |
| 2016.08.13 | 7:00 AM | MS-AM-3 | Gloster 1.9 SSW | 12.86 | MS | Amite | "No-name" tropical depression |
| 2016.08.12 | 7:00 AM | LA-LV-4 | Denham Springs 4.1 NE | 11.56 | LA | Livingston Parish | "No-name" tropical depression |
| 2016.08.13 | 6:30 AM | LA-EB-46 | Baton Rouge 1.4 WSW | 11.12 | LA | East Baton Rouge Parish | "No-name" tropical depression |
| 2016.08.12 | 6:00 AM | LA-EB-31 | Central 2.2 SE | 11.10 | LA | East Baton Rouge Parish | "No-name" tropical depression |
| 2016.08.13 | 6:00 AM | LA-EB-31 | Central 2.2 SE | 11.00 | LA | East Baton Rouge Parish | "No-name" tropical depression |
| 2016.05.27 | 7:00 AM | TX-WA-17 | Brenham 9.9 N | 21.46 | TX | Washington | Thunderstorm complex |
| 2016.05.27 | 7:00 AM | TX-WA-24 | Brenham 0.7 E | 19.14 | TX | Washington | Thunderstorm complex |
| 2016.05.27 | 7:00 AM | TX-WA-6 | Brenham 8.0 E | 16.70 | TX | Washington | Thunderstorm complex |
| 2016.05.27 | 7:00 AM | TX-WA-9 | Chappell Hill 1.0 NW | 16.40 | TX | Washington | Thunderstorm complex |
| 2016.05.27 | 6:00 AM | TX-MNG-55 | Montgomery 8.6 SSW | 16.30 | TX | Montgomery | Thunderstorm complex |
| 2016.05.27 | 7:00 AM | TX-WA-3 | Hempstead 10.0 NNW | 14.43 | TX | Washington | Thunderstorm complex |
| 2016.05.27 | 7:00 AM | TX-MNG-51 | Magnolia 2.8 S | 13.11 | TX | Montgomery | Thunderstorm complex |
| 2016.05.27 | 7:00 AM | TX-WA-21 | Brenham 8.2 WSW | 13.10 | TX | Washington | Thunderstorm complex |
| 2016.05.26 | 9:08 PM | TX-WA-18 | Brenham 1.4 NNW | 13.00 | TX | Washington | Thunderstorm complex |
| 2016.05.27 | 7:00 AM | TX-WA-22 | Burton 4.4 ENE | 12.56 | TX | Washington | Thunderstorm complex |
| 2016.05.27 | 7:00 AM | TX-WA-1 | Burton 6.9 SSW | 12.00 | TX | Washington | Thunderstorm complex |
| 2016.05.27 | 7:00 AM | TX-WA-15 | Carmine 3.1 WNW | 11.68 | TX | Washington | Thunderstorm complex |
| 2016.05.27 | 7:00 AM | TX-MNG-49 | Magnolia 10.6 ENE | 11.35 | TX | Montgomery | Thunderstorm complex |
| 2016.05.27 | 7:00 AM | TX-WA-10 | Chappell Hill 1.8 N | 11.23 | TX | Washington | Thunderstorm complex |
| 2016.05.27 | 8:00 AM | TX-WA-12 | Washington 3.1 SSW | 11.20 | TX | Washington | Thunderstorm complex |
| 2016.05.27 | 7:00 AM | TX-TV-272 | Creedmoor 2.6 N | 11.15 | TX | Travis | Thunderstorm complex |
| 2016.05.27 | 7:00 AM | TX-FY-2 | Round Top 0.2 W | 11.11 | TX | Fayette | Thunderstorm complex |
| 2016.05.27 | 8:00 AM | TX-WA-8 | Burton 5.3 NNE | 11.08 | TX | Washington | Thunderstorm complex |
| 2016.05.27 | 7:00 AM | TX-TV-135 | Creedmoor 1.5 NNW | 11.03 | TX | Travis | Thunderstorm complex |
| 2016.05.27 | 7:00 AM | TX-MNG-36 | The Woodlands 5.8 NW | 11.00 | TX | Montgomery | Thunderstorm complex |
| 2016.05.27 | 7:00 AM | TX-WA-5 | Brenham 7.2 SW | 11.00 | TX | Washington | Thunderstorm complex |
| 2016.05.18 | 7:00 AM | FL-IR-15 | Vero Beach 1.5 WSW | 12.67 | FL | Indian River | Local thunderstorm |
| 2016.05.18 | 7:00 AM | FL-SL-4 | Lakewood Park 0.5 SW | 11.20 | FL | St. Lucie | Local thunderstorm |
| 2016.05.16 | 7:00 AM | TX-NU-10 | Flour Bluff 1.6 SW | 13.44 | TX | Nueces | Thunderstorm complex |
| 2016.05.16 | 7:00 AM | TX-SP-22 | Ingleside 0.6 W | 12.81 | TX | San Patricio | Thunderstorm complex |
| 2016.05.16 | 7:00 AM | TX-NU-7 | Corpus Christi 9.0 SSE | 12.30 | TX | Nueces | Thunderstorm complex |
| 2016.05.16 | 7:00 AM | TX-NU-61 | Corpus Christi 6.9 SE | 12.29 | TX | Nueces | Thunderstorm complex |
| 2016.05.16 | 7:00 AM | TX-NU-15 | Corpus Christi 9.1 NW | 11.71 | TX | Nueces | Thunderstorm complex |
| 2016.05.16 | 9:00 AM | TX-NU-57 | Corpus Christi 7.2 WSW | 11.45 | TX | Nueces | Thunderstorm complex |
| 2016.05.16 | 7:00 AM | TX-NU-53 | Corpus Christi 3.4 WSW | 11.25 | TX | Nueces | Thunderstorm complex |
| 2016.05.16 | 6:50 AM | TX-NU-4 | Corpus Christi 8.0 WNW | 11.14 | TX | Nueces | Thunderstorm complex |
| 2016.05.16 | 6:29 AM | TX-NU-66 | Corpus Christi 8.0 NW | 11.08 | TX | Nueces | Thunderstorm complex |
| 2016.05.16 | 6:30 AM | TX-SP-23 | Ingleside on the Bay 0.7 NE | 11.05 | TX | San Patricio | Thunderstorm complex |
| 2016.05.16 | 7:00 AM | TX-AR-8 | Aransas Pass 6.1 NNW | 11.00 | TX | Aransas | Thunderstorm complex |
| 2016.05.16 | 7:00 AM | TX-NU-45 | Corpus Christi 6.7 WSW | 11.00 | TX | Nueces | Thunderstorm complex |
| 2016.04.18 | 8:00 AM | TX-WL-9 | Brookshire 6.9 NNW | 16.00 | TX | Waller | Thunderstorm complex |
| 2016.04.18 | 6:00 AM | TX-HRR-228 | Katy 5.2 E | 13.22 | TX | Harris | Thunderstorm complex |
| 2016.04.18 | 7:00 AM | TX-AS-6 | San Felipe 1.0 WNW | 12.25 | TX | Austin | Thunderstorm complex |
| 2016.04.18 | 7:00 AM | TX-CLR-6 | New Ulm 7.2 S | 12.13 | TX | Colorado | Thunderstorm complex |
| 2016.04.18 | 12:00 PM | TX-HRR-223 | Mission Bend 5.6 NNW | 12.05 | TX | Harris | Thunderstorm complex |
| 2016.04.18 | 7:35 AM | TX-HRR-225 | Tomball 4.3 S | 12.02 | TX | Harris | Thunderstorm complex |
| 2016.04.18 | 7:00 AM | TX-HRR-222 | Mission Bend 5.7 NNW | 12.00 | TX | Harris | Thunderstorm complex |
| 2016.04.18 | 8:00 AM | TX-AS-14 | Bellville 7.6 ESE | 12.00 | TX | Austin | Thunderstorm complex |
| 2016.04.18 | 7:00 AM | TX-AS-5 | Sealy 0.3 WNW | 11.25 | TX | Austin | Thunderstorm complex |
| 2016.04.18 | 7:00 AM | TX-AS-7 | Sealy 1.9 NNE | 11.25 | TX | Austin | Thunderstorm complex |
| 2016.04.18 | 7:17 AM | TX-FB-17 | Richmond 3.4 NE | 11.25 | TX | Fort Bend | Thunderstorm complex |
| 2016.04.18 | 9:00 AM | TX-AS-3 | Cat Spring 3.8 N | 11.25 | TX | Austin | Thunderstorm complex |
| 2016.04.18 | 7:00 AM | TX-HRR-164 | Jersey Village 4.6 NW | 11.20 | TX | Harris | Thunderstorm complex |
| 2016.04.18 | 8:00 AM | TX-AS-12 | Cat Spring 1.4 N | 11.17 | TX | Austin | Thunderstorm complex |
| 2016.04.18 | 5:40 AM | TX-HRR-212 | Katy 9.3 NE | 11.14 | TX | Harris | Thunderstorm complex |
| 2016.04.18 | 9:00 AM | TX-AS-8 | Industry 4.0 NNE | 11.11 | TX | Austin | Thunderstorm complex |
| 2016.04.18 | 7:00 AM | TX-AS-2 | New Ulm 0.1 ENE | 11.00 | TX | Austin | Thunderstorm complex |
| 2016.03.11 | 8:00 AM | LA-WS-2 | Franklinton 0.4 ENE | 14.00 | LA | Washington Parish | Thunderstorm complex |
| 2016.03.11 | 7:00 AM | LA-TG-11 | Ponchatoula 1.6 NNW | 13.36 | LA | Tangipahoa Parish | Thunderstorm complex |
| 2016.03.11 | 10:00 AM | LA-TG-6 | Tickfaw 2.0 SSW | 13.20 | LA | Tangipahoa Parish | Thunderstorm complex |
| 2016.03.10 | 5:00 AM | LA-OC-4 | Monroe 1.9 NNW | 13.07 | LA | Ouachita Parish | Thunderstorm complex |
| 2016.03.10 | 8:00 AM | LA-NT-2 | Natchitoches 0.9 NE | 12.51 | LA | Natchitoches Parish | Thunderstorm complex |
| 2016.03.10 | 7:00 AM | LA-OC-11 | West Monroe 10.1 SW | 12.20 | LA | Ouachita Parish | Thunderstorm complex |
| 2016.03.09 | 7:00 AM | LA-WR-6 | Minden 2.0 NE | 12.16 | LA | Webster Parish | Thunderstorm complex |