From Bag to Bin — Where Are We on the Agronomic Intelligence Timeline?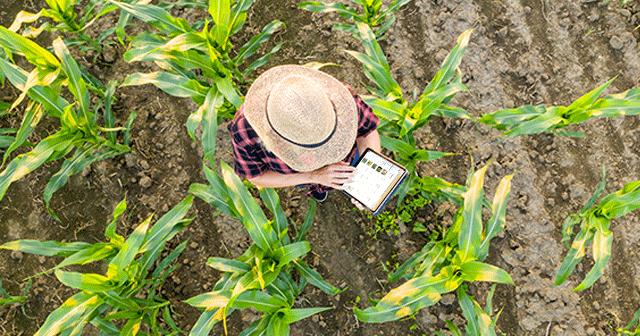 Welcome to our new Agronomic Insights blog series, which examines factors impacting the day-to-day operations of our complex industry — both the good and the questionable.
Together, we'll examine the latest best practices for creating meaningful crop monitoring, machine utilization, and logistics efficiencies. We'll also look at how these approaches improve workflow and success on the farm and in the office.
At DTN, we aren't the guys in the back of the room sharing trade secrets or unproven speculation. We're experienced partners, providing technology, tools, and insights that empower you to make smarter, faster, more profitable decisions with the information you need most.
I've worked in agriculture since row markers were the guidance system that promised to change the world. So, as you can imagine, I've witnessed the agronomic evolution in terms of technology and insights, and I am excited to share my hard-earned knowledge with you. Let's dive in.
How it started… how it's going: Lessons from pre-historic agronomic insights
From the dawn of agriculture, the information growers gleaned from the field informed the decisions that determined their survival. The earliest insights came from basic observations. In those early days, you learned through observation that, if your corn crop was "green," it was growing. Or, if it was twisted and "purple," it needed rain. That is simplicity at its best because, more often than not, those observations were accurate.
Early agronomic insights were simple to observe in the field, but as we know today, they're not always accurate. Modern solutions deliver greater depth and detail, plus enhanced reliability to support more informed and proactive decisions.

Today, insights from satellites, growth models, fertility models, disease and pest modeling and hyper-local weather models generate more detailed guidance. More complex than our ancestors, certainly. But, also more precise and predictive. This contemporary agronomic data empowers growers to make more accurate decisions that conserve time, create efficiencies, and provide reliable models that create sustainable paths to success.
At the end of the day, we are still observing the way our ancestors did. However, we now do so with the power of data the likes of which our ancestors could have never imagined.
What does agronomic data look like today?
Today, agribusinesses have access to real-time, customized insights that empower decisions that determine success. The insights now available enable agribusinesses across the industry to accurately predict weather conditions, forecast crop maturity, and strategize product development.
Hyperlocal weather modeling
Access highly accurate field-level weather, without hardware. Flexibility, portability, and accuracy define these insights that allow you to get in front of weather patterns and events in time to make the right decisions you need to make before it's too late.
Growth modeling
Project when crops will mature with data-driven accuracy. Timing planting and harvesting with the most precision possible positions you in front of the competition. Maximize your resources to make in-season decisions using data in ways you were not able to previously.
Fertility modeling
Access to real-time fertility models is the kind of data the growers of old could not have imagined. Deploy Fertility Model insights not only to create the right product for your business. Use these insights to create the right product at the right time.
Disease and pest modeling
Disease and pest modeling indices give producers insights into exactly what to look for in their crops. Utilizing all relevant data points, these findings enable producers to identify what the most profitable next steps could be.
Satellite-based field imagery
Satellite imaging delivers images of crops from outer space. This is more than the prime example of how far we have come from gauging the impact of weather on crops by looking at the level of moisture on a stone. Satellite image data provides comprehensive, valuable information over time to streamline operations and drive better decision making in the immediate, and for the future.
Simplify the path to success
The scope of agricultural data sources and types reflects the scope of land for which today's farmers are responsible. Early on, producers worked in a one-to-five-mile radius. Now, producers work in a global radius. Today's more robust and accessible insights make it possible for both producers and agronomists to prioritize and monitor fields from a desktop computer or a mobile device. And to communicate seamlessly from wherever they are.
By utilizing a centralized, digital application to view indices and models, producers and agronomists can create logistical efficiencies and priorities. In so doing, today's agribusinesses are a testament to the legacy of the past. Remember simplicity at its best? This is the new version of simplicity. At the same time, however, today's agribusinesses are heralds of the future.
Think about what you can do with more insights delivered quickly and clearly. How can you get your data to work harder for your business? To open new opportunities? And to expand your capabilities? This is the critical impact of data and insights.
Grow into the future with data-driven insights
We all recognize how much agronomic insights have changed from the earliest days of agriculture to the present. Come to think of it, just because the rock is wet does not mean it rained. And just because your corn is green does not mean it is growing.
As Will Rogers once famously said, "the farmer has to be an optimist, or he wouldn't still be a farmer." Insights allow us to ground that optimism in science. We can then use that science to predict, plan, and streamline a path to success.
Better than any other industry, we know there are so many variables in growing crops – and in managing a farm. Environmental factors, volatile market conditions, and multiple difficult-to-predict factors can create a sense of no control. Agribusinesses can get bogged down in the unpredictable. And that can cause you to make short-sighted decisions that weaken your position in the market.
Data insights save you from making decisions within that fear-based, uncertain mindset. They provide more than optimism. They give us a scientifically backed, elevated understanding of our opportunities and capabilities. And they give the business who has access to them a better edge for success.
See how we can help you, from bag to bin
Our award-winning DTN Agronomy provides the data and insights you need to maximize your operation and deliver better results for your growers.
About the author
Leon Zinck is a senior solutions engineer at DTN and a trained agronomist. He holds a composite science degree from Wayland Baptist University. He has over 30 years of industry experience from consulting, chemical manufacturing and distribution, and asset management in precision ag. Currently he educates agribusinesses and producers to make the best field-level financial and logistical decisions. Zinck is a collaborative team member and a student of agriculture and technology.