DTN Unveils New Features For ClearPath Weather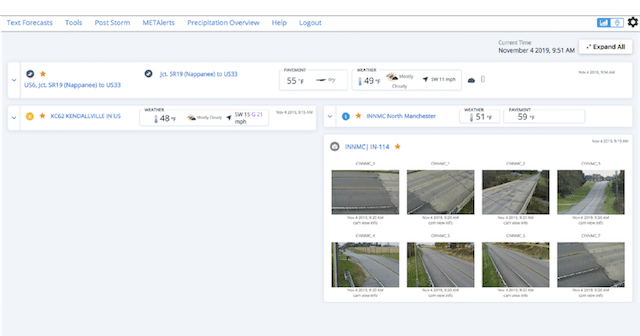 Leah Dailey Jones reveals several new features available to ClearPath Weather users this winter season to aid in decision support during inclement weather.
With the winter season fast approaching, Iteris is excited to announce the addition of a number of new features to our maintenance decision support system, ClearPath Weather.
Dashboard
One of the star new features is the dashboard. This is available on both the ClearPath Weather and WebMDSS platforms. The dashboard houses all your favorites on one platform, allowing you to scroll through it like a newsfeed to quickly see if weather impacts are expected for your routes. Each dashboard is tied to the individual's account, so once you set it up you can rest assured that it will be saved for the next time you login to the website.
Items available to favorite are forecast sites and routes, RWIS sites, FAA/NWS sites, and cameras. This is ideal for larger agencies that need quick access to data for several areas statewide, but also for smaller agencies that may want to target additional areas to watch the weather as in encroaches into their zone. Adding or removing favorites is simple: one click to the star associated with that item turns it gold and confirms it has been added as a favorite and will be displayed on your personal dashboard.
If you have a ClearPath Weather or WebMDSS account with Iteris and you aren't sure where to find the new Dashboard feature, check the top right corner after logging in and you will find the dashboard switch.
Keep an eye out this winter for further rounds of updates allowing users to also favorite trucks and mobile RWIS. The dashboard will also soon sync with the MDSS Mobile app, allowing you to favorite items on both platforms.
List Views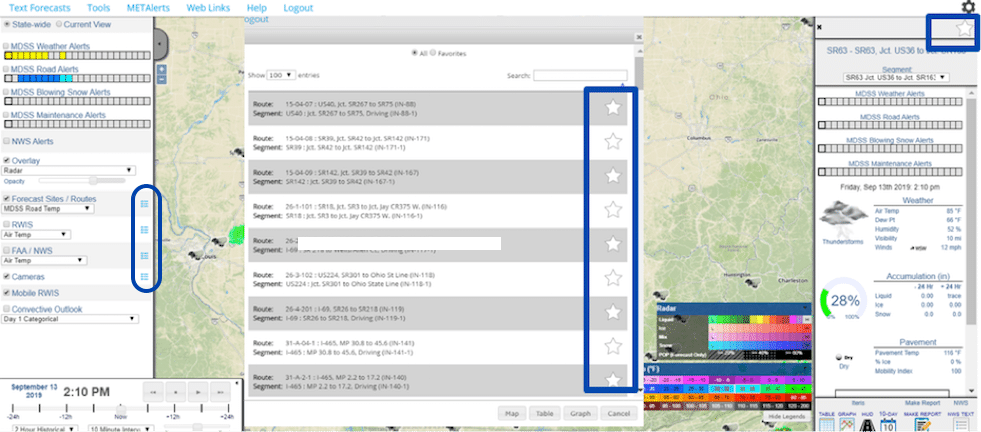 To help pinpoint items to favorite without dragging around on the map, Iteris has provided list views for them. To access these list views, the icon is located along the left side panel within the map layers such as RWIS, forecast sites/routes, cameras, and FAA/NWS. After selecting which list to view, a text box will open in the middle of the screen displaying all items listed and allowing you to search for ease of selection and favoriting.
Additional Overlay Maps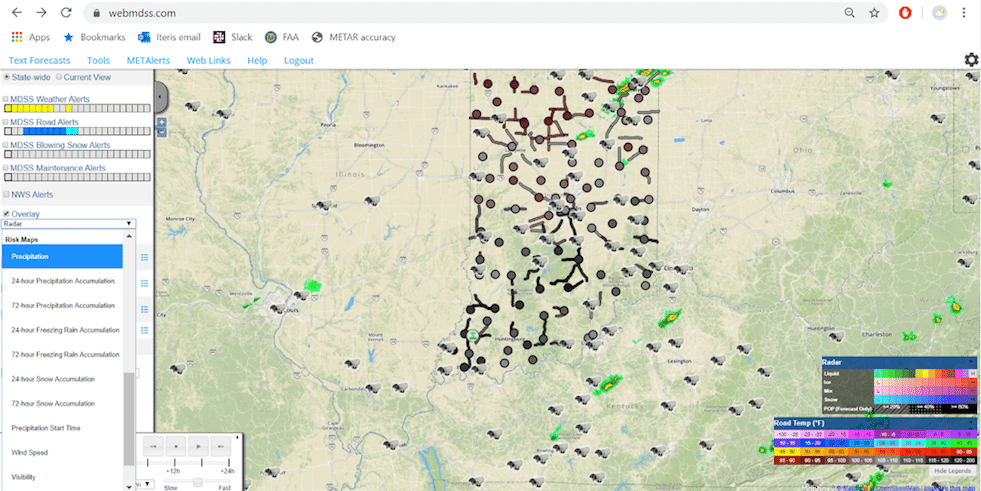 The overlay dropdown within the left side panel now includes two additional maps: 24-hour snow and precipitation maps. These maps give a visual of radar analyzed snow and liquid precipitation that fell over the past 24 hours. These aren't ground-truth observations, but can be helpful in spotting where the storm tracked and if radar indicated precipitation for that area within the past 24 hours.
Convective Outlook
The Convective Outlook provides a new selection of overlays that will detail the risk of severe weather. These map overlays are fed from the Storm Prediction Center webpage. The legends located in the help menu will aid in understanding the overall severe weather potential.
Additional Upgrades
If you are looping the radar in the past, go ahead and select a camera and watch the past images appear in the info panel to the right. In addition to the looping camera functionality, map data is now updated every two minutes and every one minute for those viewing trucks with MDC/AVL data. Even though the time on the time slider shows 10-minute time steps, the interface will actually update every two minutes, meaning the data on the map could be newer than the time shown. When selecting items, the info panel will show the actual time.
More to come
We are constantly striving to improve ClearPath Weather with input from current and potential customers. Other new features will appear throughout the season, so keep an eye out for those enhancements, as well as updated training material on all new items.