How Does Early Pest Detection Increase Yields?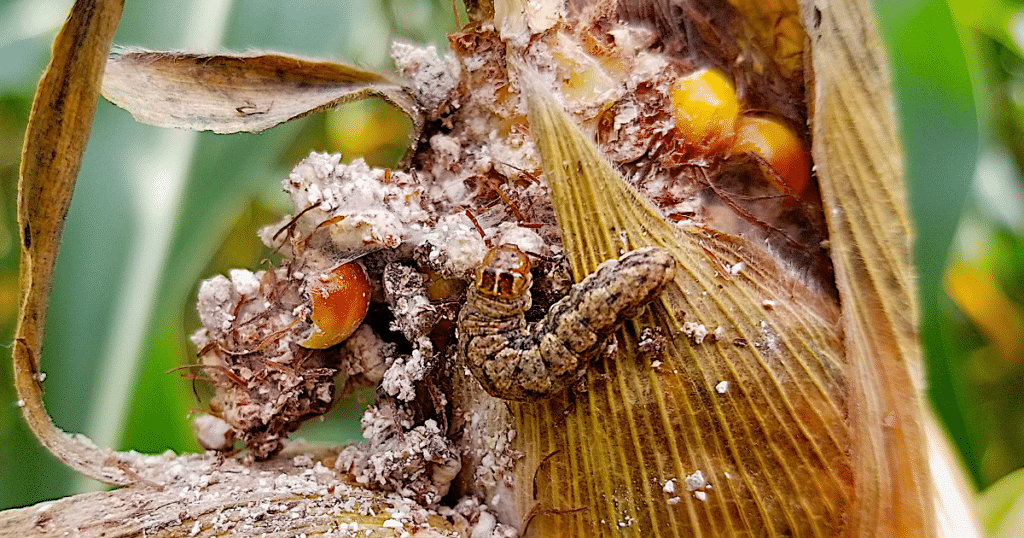 Hardin County, Iowa, grower John Gilbert said there's no substitute for frequent and early scouting when it comes to insects. Gilbert thinks that sometimes a farmer feels pressure to spray insecticides when they see neighbors doing it, but scouting before treatment is really the better way to go. Gilbert believes checking to make sure you have a problem before you spray can ensure that it's money well-spent.
From western bean cutworm in Midwest corn to bollworms in southern cotton, there are proven benefits to catching emerging pest problems early. By optimizing spray precision and timing growers can make treatment more effective, ultimately increasing yields.
As the DTN entomologist, I have researched western bean cutworm in particular and recorded the difference that early detection can make. Scouting as soon as the moths appear makes it easier to determine if they are laying a problematic number of eggs in a field. If left uncontrolled, the caterpillars can cause devastating damage in a short amount of time. The western bean cutworm can easily reduce yields by 10 to 15 bushels per acre — and expose corn ears to mold that mean lower prices at the elevator.
This impact on yield and grain prices confirms that early detection can help minimize destruction and keep costs down. That's why prioritizing scouting will better protect vulnerable fields and margins.
One tool that can help with early detection and should be used with scouting is a Smart Trap™. A Smart Trap is an automated, electronic hardware device capable of detecting insects present in fields and wirelessly reporting the data back to you. By using a Smart Trap, you can spend less in the field checking traps and more time evaluating the entire health of your operation.
A Smart Trap can report on target insects in near-real time, and adding one to support your scouting efforts can make a difference. If you deploy a Smart Trap, you will want to collect data via a scouting app that can connect to other field and weather sensors and provide a snapshot of total field health. A quality Smart Trap should be able to distinguish between target and non-target pests and provide accurate and timely daily insect counts.
It's important to select a Smart Trap that is not only easy to install, but one that also makes it easy to get the data. Because a Smart Trap is wireless and shares data to a cloud, growers can access daily insect counts from the device of their choice at any time. This can lead to more precise biofix and phenology models, resulting in more efficient spraying.
Over the past few years, I've worked with farmers who are using the Smart Trap. It's nearly doubling the scouting window by helping detect western bean cutworm flights an average of four to six days earlier than university networks are able to organize and report numbers. Each trap's daily resolution also makes it faster for growers to determine if trends are rising or falling. When combined with other technology and scouting tools, a Smart Trap can ensure you are making the most efficient and effective decisions. For example, using a degree-day-based phenology model can help you and your trusted advisors anticipate insect flights.
When you then cross-check your pest data with other data such as weather, crop growth stage, and human observations, you gain a full view of your operation and can determine your risk level and how you can lessen that risk and increase your yields. Early detection and pre-planning are critical to reducing your risk.