DTN Recognized for Exceptional Achievement at 2020 Esri Partner Conference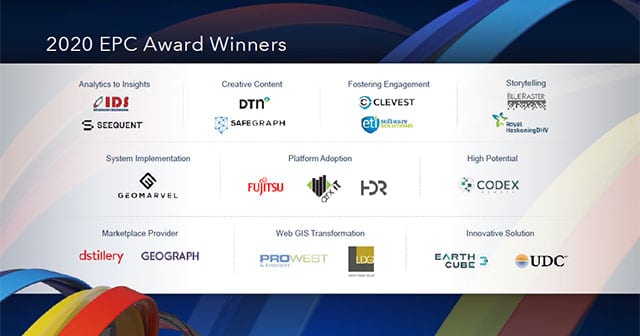 Award Granted for Creative Content during Esri Partner Conference
DTN, an independent source of insights, analysis and decision-support solutions was recently recognized for its outstanding use of GIS to provide creative content to customers during the Esri Partner Conference in Palm Springs, California. Esri, the global leader in location intelligence, honored DTN and other select partners for their innovative and creative ways to solve the most complex business problems by using Esri's geospatial platform and analytics tools.
"Weather is a mission critical aspect of planning and operations for asset intensive industries such as oil and gas production, electric transmission & distribution, and the transportation supply chain" said Robert Laudati, Director of Esri's Global Partner & Alliance Program. "The direct integration of DTN's services within the ArcGIS infrastructure allows our customers to protect not only their essential equipment and services but also their personnel in times of extreme weather events. We look forward to future innovation from DTN including new content bundles on the ArcGIS Marketplace."
DTN received the 2020 Esri Creative Content Award for delivering creative content for ArcGIS users across utilities, offshore energy, and many other industries. The company has developed more than 130 weather layers that can be added to customer's existing Esri maps in a scalable environment. The weather layers show a wide range of weather phenomena and their exact location. Customers can add past, present and future weather data to Esri maps to make timely weather decisions for their business in all industries.
"We are truly on the cusp of revolutionary changes in how weather information is depicted, interpreted and consumed" said Mike Eilts, DTN Senior Vice President-Weather. "With remarkable advances in Esri's mapping capabilities and DTN's weather analytics, decision-makers across a wide range of industries now have unprecedented access to weather information that can impact their operations."