Significant Severe Weather Strikes the US
Just about every type of weather happened somewhere in the US over the past weekend. Heavy rains, tornadoes, blizzards, flooding, and even a typhoon near Guam caused, and continue to cause automobile accidents, flooded land, destroyed homes, and three fatalities.
At 520 PM CST, a confirmed large and extremely dangerous #tornado was located over Columbus, moving east at 35 mph. #mswx #alwx #ThinkWeather pic.twitter.com/KvFTQdmKKw

— RadarScope (@RadarScope) February 23, 2019
Numerous tornado warnings were issued Saturday afternoon and evening from Mississippi to Alabama to Tennessee. RadarScope clearly shows an area of rotation over Columbus, Mississippi.
NWS Jackson survey team confirms an EF-3 tornado in the city of Columbus in Lowndes Co. #mswx pic.twitter.com/jJsCJeAtox

— NWS Jackson MS (@NWSJacksonMS) February 25, 2019
Damage surveys are ongoing, but the one in Columbus was rated an EF-3 and caused one fatality. This is the first tornado-related death of 2019.
The Tennessee River at Chattanooga will approach Flood Stage of 30' tonight. Heavy rainfall in the eastern Valley has caused reservoir levels to rise above summer pool and releases will be increasing. #TNWX pic.twitter.com/63BfBSJ9X6

— Tennessee Valley Authority (@TVAnews) February 24, 2019
In Tennessee, multiple days of heavy rain have caused flooding across the central and western parts of the state. One fatality has been recorded, and a State of Emergency was issued over the weekend. Many homes remain underwater, and a landslide in Chattanooga caused the collapse of a Subway eatery.
The Tennessee River is continuing to rise. It is projected to reach near-record levels this week. As this water continues downstream, additional flooding is expected.
BREAKING: A multiple-vehicle crash late Sunday morning that shutdown I-41 in Neenah left one person dead and injured a number of others. https://t.co/8dUZGUYphp

— Journal Sentinel (@journalsentinel) February 24, 2019
In northern parts of the country, heavy snow and blowing winds led to blizzard conditions in Minnesota and Wisconsin. A pileup of over 100 cars occurred due to these weather conditions in Neenah, Wisconsin. One fatality was reported, and over 70 others were injured.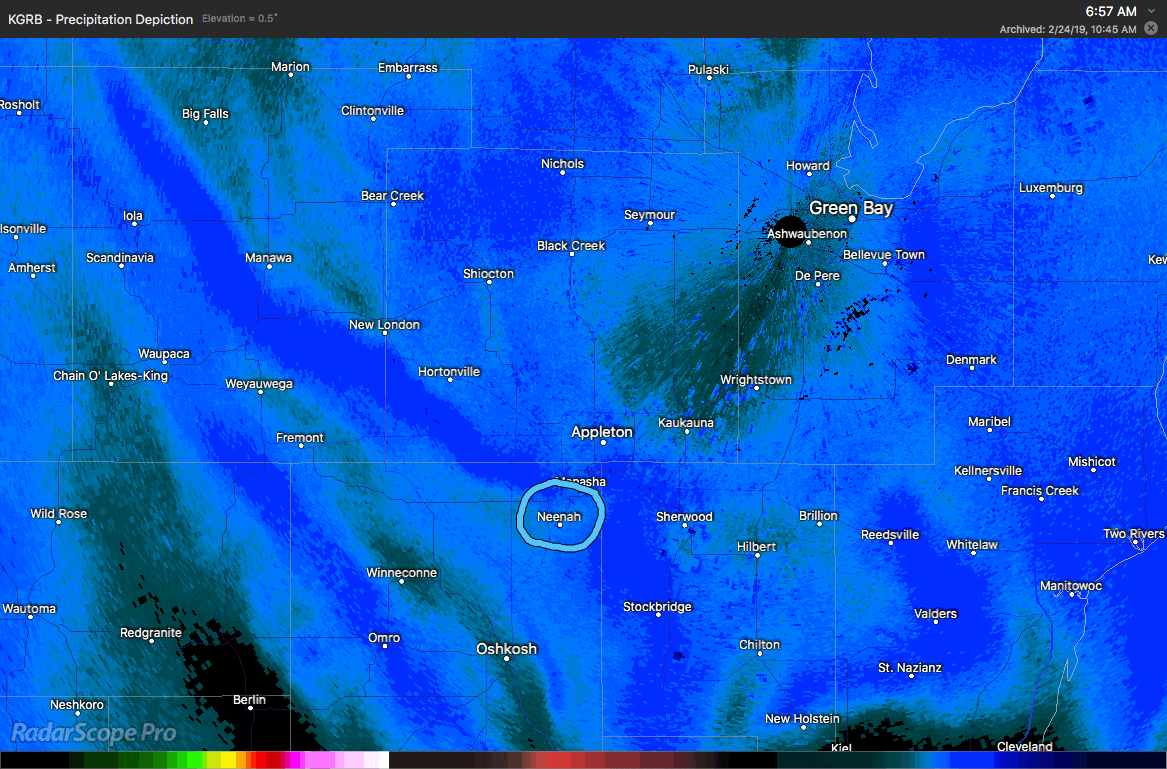 RadarScope data shows the bands of heavy snow that fell at the site of the accident on Sunday afternoon.
An ongoing damaging #wind event will continue across the Northeast today. Total customers without power in the Great Lakes and Northeast have already surpassed 600,000, with new #outages expected through the day. #ThinkWeather pic.twitter.com/Cxs13T7snl

— DTN Weather (@DTNweatherIntel) February 25, 2019
As this storm system has moved east, it is now causing damaging winds across the Northeast. Due to the strong winds, numerous power outages are occurring.
Hurricane Force: Lake Ontario is a uncontrollable beast this morning here in Oswego, NY. 80 MPH wind gust reported at Coast Guard station by @SteigerScott. @News_8 @spann @JimCantore @StormHour @wnywxguy @TomNiziol @wxbywilliams @NWSBUFFALO @JimTeskeNC9 @NatalieKucko pic.twitter.com/4XHkoHy6nA

— John Kucko (@john_kucko) February 25, 2019
The Great Lakes are also getting pounded by this system. The Coast Guard at Lake Ontario recorded gusts up to 80mph today.
Over in the Western Pacific Ocean, WeatherOps shows a different type of weather system causing issues. Super Typhoon Wutip, located west of Guam, has winds of 150mph with gusts to 180mph.
NW Pacific – Super Typhoon Wutip's 25 Mile-wide Eye Seen by NASA-NOAA Satellite
Tropical Cyclone #Wutip has strengthened into a powerful super typhoon and NASA-NOAA's Suomi NPP satellite snapped a visible image of the storm that revealed a clear eye.
https://t.co/eumLe3u8TL pic.twitter.com/Uhd7UR5aBc

— NASAHurricane (@NASAHurricane) February 25, 2019
Wutip is now the strongest typhoon on record for February. Those in the Philippines, are preparing for flooding rains and strong winds as it is currently forecast to diminish in strength over the coming week.
As spring approaches, the weather will only become more volatile. If you are not yet prepared, now is a good time to start.