Use Lightning Intelligence to Protect Infrastructure from Outages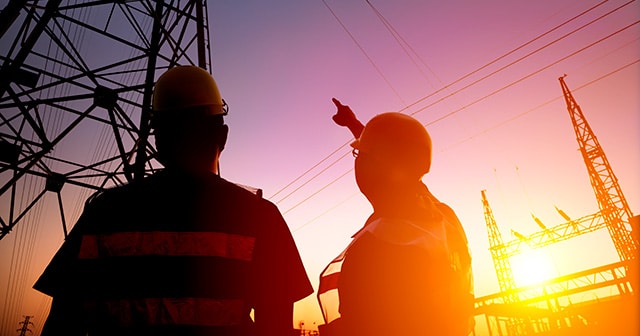 Power failures and interruptions are on the rise. According to Inside Energy, between 2000 and 2014, the five-year annual average of outages doubled every five years. Across the United States, aging electricity infrastructure (parts dating back to the 19th Century) is extremely vulnerable to outages, particularly from the weather. The growing demand for power only exacerbates this problem.
Lightning strikes cause one-third of all power outages. In August 2019, a lightning strike in the UK caused two power generators to go offline, resulting in the country's most significant outage in a decade. Even when there isn't a direct strike and lightning damage doesn't cause immediate disruption, infrastructure can fail in subsequent days or weeks.
The challenge for electric companies is clear: they need to protect at-risk infrastructure from lightning damage. Where this isn't possible, and power is lost, their priority is to restore power as soon as possible. Promptly assessing the damage caused by a storm enables dispatchers and planners to implement efficient repair programs, prioritize damaged assets, and prevent shutdowns.
Lightning storms cause significant damage to electric infrastructure
Infrastructure can fail both when directly hit by lightning, or by indirect strikes in the vicinity. Identifying assets that require inspection following storms can help reduce outages, increase customer satisfaction, and save money.
Impact of direct strikes: When lightning hits assets, it often results in burnouts or explosions. Direct damage caused by lightning is usually easy to assess, as it typically results in immediate power outages.
Impact of indirect strikes: Damages to infrastructure indirectly affected by lightning are caused by increases in ground voltage when lightning hits the earth, which burns out electrical equipment. This type of lightning strike doesn't always cause an immediate outage or failure of equipment; instead, power failure often occurs days or even weeks later.
Identify potential issues before power loss happens
Lightning detection software can be overlaid onto a map of critical infrastructure locations, including power lines and substations, with known lightning strikes.
This insight enables electric dispatchers and crew leaders to identify assets in need of inspection. A proactive approach to inspections can prevent power outages by repairing damaged assets before they fail.
Correlating lightning strikes over the last 24 hours, with the location of substations or other assets, and delivering a daily report, means crews can coordinate maintenance and inspection tasks. Additionally, accessing archived report data provides a repository to plan inspections, maintenance work, and areas that would benefit from lightning protection.
Improve reliability and keep customers happy
Monitoring the risks associated with lightning strike offers a better chance of preventing outages before they happen, as well as attending to power interruptions caused by direct strikes quickly and efficiently. Improving reliability and preventing power outages are essential to maintain customer satisfaction.
Reduce costs associated with replacements 
Identifying assets that could be affected by lightning damage before outages occur, relies on having a process and the right data in place to assess and inspect at-risk infrastructure. The benefit is clear: often assets can be repaired, reducing costs as repairs are usually cheaper than replacements. Additionally, archived lightning strike data supports product warranty and insurance claims.
Protect maintenance teams from harm
Access to real-time storm visualization ensures planners are aware of potential threats from lightning, while maintenance work is happening. Teams can also be automatically alerted to danger. Crews equipped with weather apps with GPS-based alerting receive immediate notifications if lightning occurs near their position and could pose a threat.
By using accurate, real-time lightning intelligence analytics, electric companies can mitigate the risks of weather-related power outages, react to potential damages caused by lightning strikes, and move towards more accurate maintenance and repair programs. Read the white paper to learn more about how you can use proactive asset protection with precision Lightning Intelligence Leveraging analytics to identify potential risks.