A Look at Alberto and the Data Behind the Science
While many may think of WDT as the parent company of WeatherOps forecasts or RadarScope, we are much more than that. We also work with all types of weather data using GIS, APIs, and more. Let's take a look at the variety of images we can produce using data from the recent Tropical Storm Alberto.
Alberto may not have been a hurricane, but it was a heavy rain producer. Major flooding was reported across the southeast as the storm made its way inland. Flash flood emergencies were issued for areas that received upwards of 10 inches of rain in short periods of time. Towns turned into raging rivers and roads became inundated with mudslides.
While radar is useful for knowing where storms currently are, or what's on the way, it can only show rain totals for a short period. In this RadarScope image, the rainfall in Ellicott City, Maryland is displayed before the end of the rain and while catastrophic flooding was ongoing.
At 633 PM EDT, catastrophic flash flooding was ongoing in the
Ellicott City and Catonsville areas, with many areas seeing over
five inches of rain so far. Additional heavy rain is moving into the area again. #mdwx #vawx #ThinkWeather pic.twitter.com/dqLJJAMFjt

— RadarScope (@RadarScope) May 27, 2018
But what if you want to see how much precipitation fell over a more extended period? That's where our other sources come in to play. In this image from Frontier, we can see the entire US with rainfall from the past 7-day period. Just looking at the colors on here, you can see that heavy rain fell in the southeast and southern tip of Florida. The legend tops off at 5 inches which we know from the above image is a low estimate. So, while this map is useful for showing us where heavy rain fell, it does not give us enough detail for Alberto.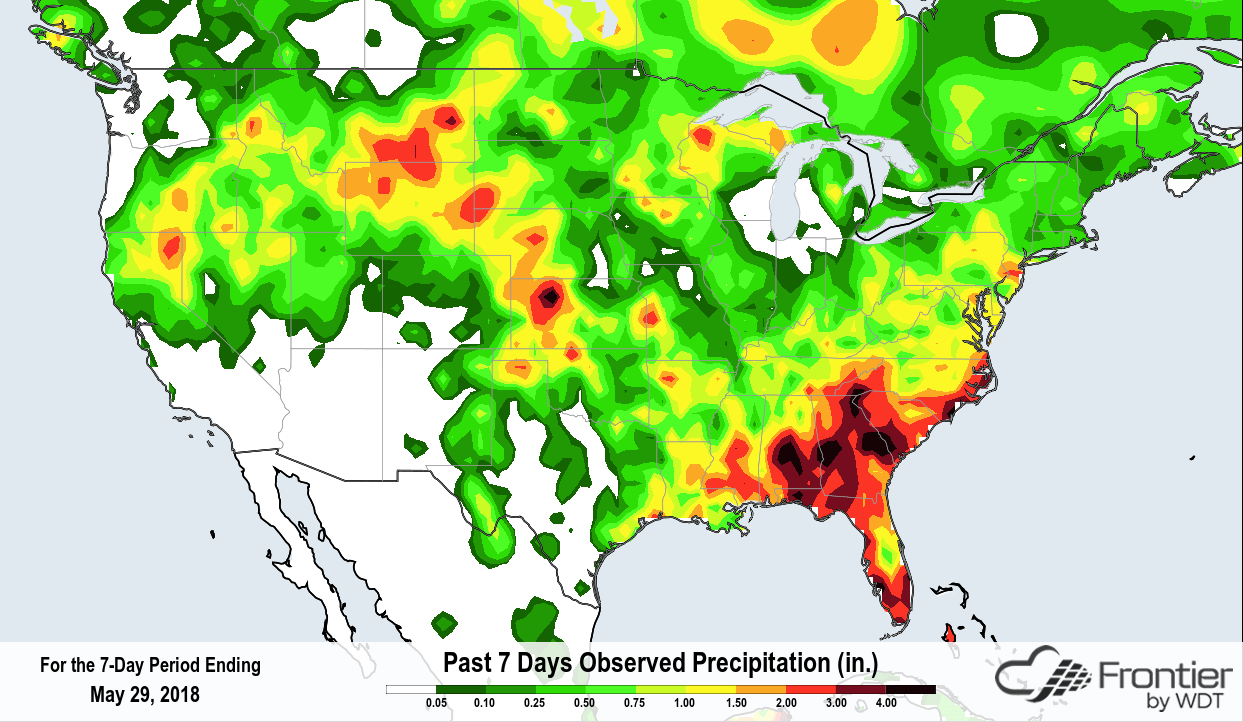 Now, let's view all the rainfall over a smaller geographic area and just for the time-frame that Alberto was active. In this Esri GIS map, the path of the tropical storm has been plotted. Rainfall totals approaching 20 inches is shown, including areas affected by associated storms further removed from the direct route. These data can also be used in an ArcGIS Story Map.
WDT's MetStorm product feeds both GIS and our APIs. While GIS provides inherent plotting capabilities, the underlying rainfall data can be made available allowing you to create your own plotting routine. Here you see the gridded data being contoured to show max rainfall amounts clearly.
Whatever type of weather data you need, we more than likely have it. Just contact us for more information and let us help you with your project.