Gasoline Muscling Up—Flips into Seasonal Backwardation
Fuel Marketer Intelligence: Supply Chain Dynamics to Retail Fuel Prices 
The now expired May gasoline futures contract on the New York Mercantile Exchange rallied to an eight-month high on the spot continuous chart before rolling off the board April 30, positioning the June contract to retrace the August 2017 high at $2.1705 gallon traded as Hurricane Harvey was closing in on Houston, with more upside eyed.
NYMEX gasoline futures, traded under the RBOB acronym for reformulated blendstock for oxygenate blending, gained $0.33 gallon or 18.3% during the first four months of 2018, boosted by a combination of factors including strong demand. Geopolitics are again a feature underpinning higher crude oil prices that, in turn, lift gasoline prices, as a fear premium is embedded in crude values.
Indeed, the impetus for the April 30 rally was expectations U.S. President Donald Trump would withdraw the United States from the 2015 Iranian nuclear accord reached by the Obama administration, setting a May 12 deadline for major changes to be made to the pact. Israeli Prime Minister Benjamin Netanyahu might have sealed the fate after presenting thousands of documents showing that Tehran had deceived the six world powers that are party to the agreement, and that Iran continues to advance its nuclear program in secrecy. A U.S. withdrawal from the agreement would re-impose sanctions on Iran, reducing Iranian crude exports.
Domestically, preliminary demand data from the Energy Information Administration shows gasoline supplied to market outpacing the year prior period through April 20 by 3.1% at 9.141 million bpd, which equates to an additional 1.252 billion gallons of gasoline demand during the first 110 days of 2018 compared with a year ago. The most recent data shows U.S. commercial gasoline supply at 236.8 million bbl as of April 20, down 4.2 million bbl or 1.8% against year prior.
U.S. gasoline's forward supply suggests a supply-demand disposition for the motor fuel that is in balance, with days of supply comfortably hugging the five-year average so far in 2018. Exports have countered record high U.S. gasoline production so far this year, currently averaging nearly 100,000 bpd more than in 2017 at 790,000 bpd, while gasoline imports are at a four-year low.
Seasonally, the forward curve for RBOB futures flipped into backwardation with the roll forward to the June contract as nearest delivery, a bullish market structure in which the contract closest to the physical market trades at a premium to deferred delivery. Gasoline demand is strongest during the summer months.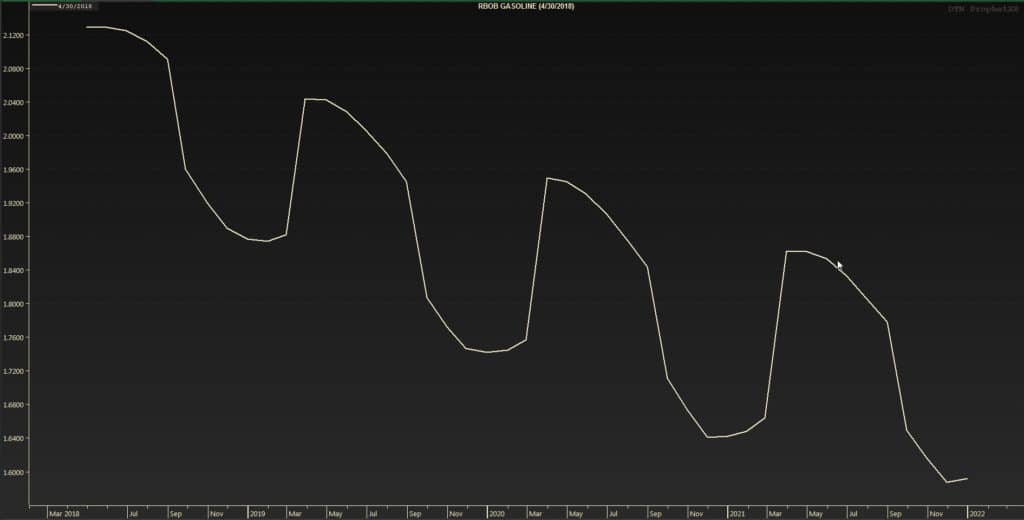 Nearest delivered RBOB futures likely has another $0.10 gallon advance to make over the next few weeks, putting the national retail gasoline price on course to touch $3.00 gallon just in time for the Memorial Day weekend at the end of May. An EIA survey reported the U.S. retail average for regular grade gasoline ended April at $2.846 gallon, the highest price point at the pump since November 2014.
Read the full article in Convenience Store Decisions