New Agriculture Vice President Announced at DTN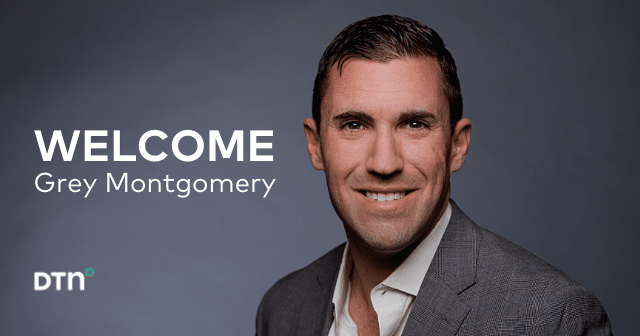 Today, DTN announced the addition of Grey Montgomery to its agriculture leadership team. Montgomery will serve as the vice president and managing director of content and oversee the agriculture solutions that deliver award-winning agriculture news, markets and weather insights to farmers and agribusinesses.
At DTN, Montgomery will oversee the strategic direction for numerous solutions, including Progressive Farmer, MyDTN, the DTN satellite business and Content Services. "DTN has an outstanding reputation of providing valuable information and insights to farmers and agribusinesses across North America," Montgomery said. "I'm excited to join the organization and continue to build on the company's legacy."
Montgomery most recently served as the president of Farm Journal's Data and Research Division, which provides agricultural commodities and market research, data and consulting. While there, he led the development of Farm Journal's forthcoming ag data front-end SAAS tool, Farm Reach Vision. He also led the rebuild of the company's data infrastructure into a single data lake, known as the Trusted Intelligence Platform. Prior to Farm Journal, Montgomery served as the chief content and innovation officer at Winsight and the head of mobile for McClatchy.
"We are excited to welcome Grey to DTN," said John Teeple, senior vice president-agriculture. "His impressive background, coupled with his leadership style, will ensure that DTN continues to deliver high-value content for our producer and agribusiness customers."
Montgomery has an MBA from the Wharton School at the University of Pennsylvania, with honors.
To schedule an interview with Grey Montgomery or John Teeple, contact Kylie Swanson at kylie.swanson@dtn.com.