Enhance your decisions by adding weather data to your digitalization strategy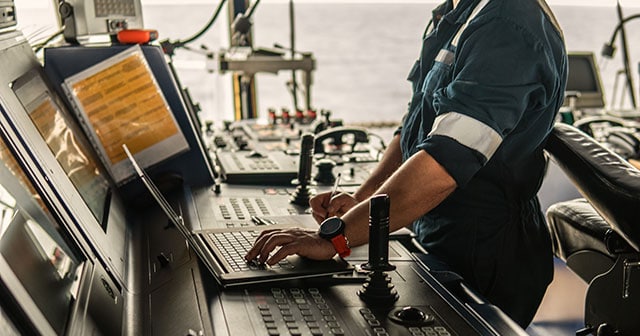 Until fairly recently, the shipping industry relied heavily on traditional analog methods. However, this is changing fast, with crewless vessels crossing the Atlantic and new blockchain platforms already coming online.
Shipping companies are now using digital technology and data to improve knowledge into customer behaviors, competition, and future trends. They're using this information to optimize their processes and match their offerings to customer demand. But even with greater insights, the weather remains an unpredictable factor.
Weather data is only part of the solution. Integrating it into systems, as part of a drive towards digitalization, is the key to success. It helps improve route optimization and fleet monitoring. Increased knowledge about weather patterns, forecasts, and advisories — and how this information interfaces with other data sources — improve strategic decision-making.
Streamline decision-making with the right data
Integrated weather data can help you protect people, keep assets safe, and reduce the financial impact of weather. Improved access to accurate weather data also means faster decisions and streamlined internal communications. Integrating an advanced API portfolio designed for the marine, shipping, and offshore sectors puts the weather data you need into your systems.
Utilizing the latest cloud technology, it's possible to tune a global suite of marine forecast models to match your needs. Models and forecast data are continuously validated, calibrated, and tuned to the latest observations using satellite, buoy, and private observation networks. Unlock site-specific weather data, quickly onboard new product features into your existing setup, and integrate high-resolution models into global and regional forecast runs on the fly.
Improve safety and results with predicted performance optimization
APIs can provide a recommended route that is easily ingested into any application. This insight enhances situational awareness by improving the accuracy of estimated times of arrival (ETAs) and reducing operational and logistical costs. APIs can also deliver critical metadata about each route. They can easily compare different route options, offering the flexibility to generate solutions via an endless combination of routing options.
As a result, APIs enable better decisions across multiple roles:
Charters can analyze all route options before and during voyages, and see the real expected arrival times, as ETA calculations include weather resistance and avoidance data.
Owners can minimize idle vessel time, maximize performance, adapt routes to reduce CO2, optimize fuel consumption, and advise captains on ideal speed.
Ports can see actual ETAs for inbound vessels and benchmark arrival times with better estimates to avoid congestion and maximize port logistics.
Commodity traders can model the costs of changing vessel speed and port on market prices, as well as see how storm systems affect commodity supplies and prices in specific regions.
Support data-driven insights, with experts who understand your challenges
Data is critical to digitalization. However, it can only take you so far without the expertise needed to interpret it.
For the shipping industry, master mariners add real value to data. They have navigational knowledge and are familiar with vessel characteristics in various wind and sea conditions.
They also understand onboard processes, including how the bridge is used to change routes, fuel, and speed. They are aware of the available routes at sea — including the obstacles, sea currents, and straits controlled by pirates — issuing guidance in full knowledge of these constraints. They are also conscious of when it's impractical to advise different speeds and courses, so they provide realistic advisories.
Integrating weather data helps you find the best balance between cost, fuel, and time — without putting crews or vessels at risk. Operational savings are achieved through reduced transit times and fuel consumption.
Learn more ways weather data can support your digitalization strategy in the new white paper Digitalization in Shipping is Accelerating: How Weather Data Helps.