Innovation That Delivers Actionable Insights for Global Supply Chains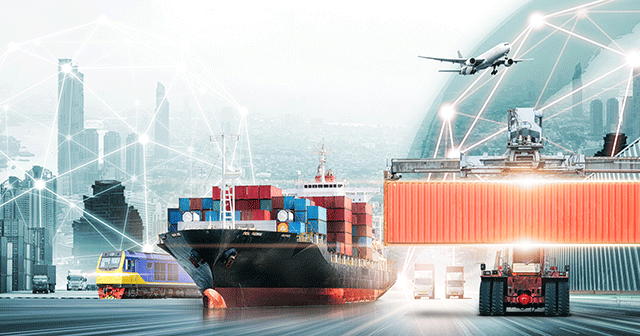 In today's data-driven world, business and operations leaders are inundated with information that is constantly available at any given moment. In fact, according to the Statista Research Department, by 2025, global data creation is projected to grow to more than 180 zettabytes — roughly the equivalent of more than 55 billion photos. All that information needs interpretation to be useful.
Much of that data creation informs and originates from the movement of people and goods worldwide. The global supply chain is comprised of complex activities that bring together a wide variety of roles, each with its own evolving data sets: inventory, supplies, distribution routes, weather, staffing, fuel, storage, and shipping. From ports and terminals to depots, elevators, and distribution centers, all along the supply chain, decisions are made to plan and move supplies while organizations remain highly focused on minimizing disruptions and meeting delivery deadlines.
Innovation is reducing supply chain disruption
Innovation in the supply chain is coming from organizations that can manage, model, and deliver insights from the data in the form of operational intelligence — providing the ability to understand the influence of current conditions and changing dynamics as they unfold. DTN President and CEO Marc Chesover explained, "Over the last years, supply chains have become increasingly more complex, which has an impact on the world's global economy." Chesover continued, "There are controllable and uncontrollable risks. And when we can address the uncontrollable risks and leverage the insights, supply chains become ever increasingly more efficient."

This operational intelligence, when integrated into an organization's economic ecosystem, can help a company pivot with evolving conditions, capitalize on opportunities, or fine-tune operations to increase efficiencies. For industries along the supply chain, whether in the sky, in the ocean, or across the land, DTN delivers global analytics and insights that help decision-makers make agile, confident decisions about their operations.
Innovation depends on integrated insights
DTN technology and data engineers constantly work to optimize the kind of actionable, real-time insights that require multiple processes working in concert by bringing a deep understanding of the industry, joining multiple data sets with a relevant impact on the industry, and integrating processes. It's the intersection of these centers of expertise that allow DTN to bring innovation to life, creating positive disruptions for complex, often manually managed, supply chains.
For example, throughout the agricultural supply chain, nearly any detail can make or break harvest and delivery expectations. Time is of the essence when it comes to informed decision-making. DTN Agronomy provides agronomists and crop scouts with an innovative, streamlined real-time, data-driven view of highly accurate field locations, weather and environmental intelligence, and advanced communications. With it, they can quickly and efficiently get a holistic view of grower operations, build reports, and communicate with customers within one easy-to-navigate platform.
"The ability to provide accurate, robust data, along with custom recommendations for farmers across the world gives our customers the opportunity to strengthen their farmer partnerships," said DTN Head of Ag Product and Operations Grey Montgomery. "DTN Agronomy's field-level weather and environmental intelligence transform complex data into actionable insights that improve yields and profits, making it an integral platform from bag to bin."
Innovation is also essential in the downstream oil and gas industry as it begins to digitize and capitalize on more timely insights. Fuel supplies and fluctuating fuel prices can create havoc with transport pricing for goods. Access to real-time fuel supply options that bridge the gap between fuel buyers and sellers is not only more efficient, it also saves time, which can increase revenue and be transformational in this fast-moving trade environment. With multiple data sets working to provide a comprehensive view of bulk fuel trading, DTN developed Energy Digital Commerce via a secure cloud-based sales platform to deliver up-to-the-moment market conditions that meet the needs of evolving oil and gas trading and transport requirements.
The impact of weather on global supply chains
The efficient movement of goods is central to the global supply chain, and it's no small task. And the most unpredictable factor is, without a doubt, the weather. "The evolution of weather is vast right now. It's becoming a very innovative space, and DTN is at the center of it," said DTN Global Commercial Leader Renny Vandewege.
For the maritime industry, which carries 90% of the world's goods, actionable insights are critical to making smart decisions around safety and efficiency. Prior to having access to comprehensive data, shipping captains relied heavily on their previous crossing experience to influence their future voyages. DTN delivers a suite of innovative maritime APIs, such as Vessel Routing API, to help ship operators bid on and schedule voyages based on reliable data connected with other insights that also impact safety, efficiency, and profitability.
Weather is also a major disruptor for the aviation and transportation industries. According to the Federal Aviation Administration, the weather is the cause of approximately 70% of aviation delays. Often, the last mile in the supply chain, road transportation is impacted by weather from severe temperatures — both heat and cold — precipitation, winter conditions, and heavy winds. DTN has pioneered the computing capacity that can deliver global weather forecasts at more than twice the industry standard.
"The ability to optimize your part in the supply chain gives decision-makers and operators more control of the unpredictable factors, and the ability to help positively impact their ETAs, fuel costs, and overall costs, while keeping safety top of mind," Vandewege noted.
Across the globe and along every trade route, innovation is improving the management of worldwide supply chains. Data is at the heart of this digital evolution. The ability to surface the right insight for the right operation at the right time will continue to transform the movement of goods worldwide and support the operational intelligence that organizations need to plan for and make better business decisions.